Felix's First Backpacking Trip
Yoga at Camp
Add caption
We have been in the Durango and Silverton area now for 12 days. Without a doubt, the San Juan mountains are my favorite place in the Colorado, if not, all of the US. I love hanging out in the cool towns, running, biking, white water kayaking, backpacking, etc...
We stayed 6 nights on Cascade Creek about 25 miles out of Durango towards Silverton. We landed a great camp spot by the creek with trail access just up the dirt road. I did a number of great runs up to the amazing cascades and waterfalls. Camp was at about 9,500ft and my running went up to 11,000ft everyday.
Half way through our stay we backpacked up the creek about 4 miles and stayed for two nights. The views were epic, the creek was close and we were on the edge of a beautiful meadow. Felix did well sleeping in the 3 man tent with us and we had some great hikes up to the falls. One of the nights we had a good rain that soaked and froze us pretty good. Overall, our first backpack camping trip was a success.
I did one run up to a pass at 12,500ft before heading to Silverton. I ran up Cascade Creek to Engine Creek up to the Colorado Trail. I ran across a bit of snow, but it was early and the snow was firm enough to run across. I really enjoyed the great views on the Colorado Trail.
Kendall Mtn From Silverton
On Saturday I did a long run from Silverton. Plans sort of fell through to join some people and I was in a position where I would make up and long run route. I ran from Kendall Mountain ski area up along a jeep trail for a while climbing about 750 feet before the jeep road ended. I tried to find another trail but ended up running back down to the ski area where I eventually found a single track trail. 45 minutes later I was cruising out of town and on the trail of Dakota Jones. I saw Dakota earlier before I began my run and there was not doubt that the fresh Montrail track's were his. The trail led to a steep jeep road. Above the jeep road was a sort of mining bucket chair lift, for a lack of a better way to describe it, going to some mine along a creek. As my run continued I had a number of turns where I had to make a decision on which way to go, at these crossroads, I would walk around each turn searching for Dakota's foot prints. Because of regular wet dirt or mud or dry dusty sand, I was able to figure out each turn. The only problem with my investigative running route approach, was that it added about 5 minutes at every juncture.
The road climbed above tree line and then some pretty ponds that were followed by some decent sized snowfields on the road. I did more investigating and some good guessing on best routes to make the 12,500ft pass. The jeep road was now a trail and at the pass I had to make a tough decision, to randomly follow into a different valley and drainage where I had no idea where I was going, or to turn back… easy, down the new drainage. I was comforted by Dakota's tracks and made a very steep descent to some views of waterfalls and a road where some people were camped. A quick creek crossing and I was asking the campers about a blond runner with a hand water bottle. Up the road to Highlands Marry Lake trail I went following Dakota's ghost. Up a few thousand feet along a muddy trail I went to the lakes. I signed the wilderness check in sheet, just in case, and was comforted by an over simple map showing a trail off the lakes that lead to a road to Silverton. Once up to the lakes I lost Dakota's trail with 3 options for trails at a number of lakes.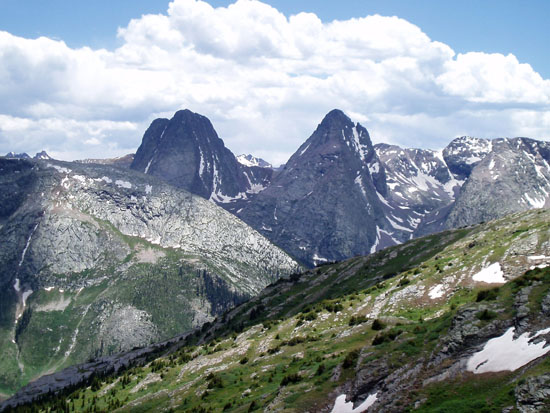 Views from the Weminuche Wilderness around Mary lakes
I spent nearly 45 minutes going two different wrong ways. The body was getting tired with not much to eat and the stress of being alone and not knowing where to go at 12,000 feet was getting very heavy on the body and mind. After getting back on Dakota's trail I was further challenged with some off trail explorations to get over a ridge I was sure led to where I wanted to be. Next up would be some serious snow and hail to make things extra fun. On this side of Kendall Mountain on what I would later find out to be Whitehead Trail, there was a lot of snow still and sinking through, post hole style, was common. At this point I was over 5 hours into a long run adventure and ready to be home. Just before making the jeep road that wraps back to Silverton, I slipped running off a snowfield on a very slippery snow, slush, hail, water, and mud mixture surface. I wacked my knee very hard bruising it for over a week and sustaining a few cuts. My knee was swollen and tender every day when I ran.
Finally back to the car in under 6hrs with about 8,000feet of climbing and 28 miles all above 9,300 feet, I bought Maggie a Chai to try and make it up to her a little bit for being late back to the camp.
Since my adventure long run in Silverton, we moved our base camp to Cement Creek. Just a mile out of Silverton, we are enjoy biking in and out of town where we enjoy the funky little city of Silverton and all the wonderful mountains, rivers, passes and creeks of this magic valley.
Next post, my first whitewater kayaking outing, running with Brendan Trimboli and a few great runs around Silverton.